About the Journal
Journal of Politics and Policy (JPpol) is a bilingual national journal written in English and Bahasa published by the Department of Political Science, Universitas Brawijaya. JPpol was founded in 2018 and become a scientific journal in the field of political science and policy studies-related. Published twice a year: July and December. Each edition contains 5 research articles and starting from the 2021 edition, a book review will be added. JPpol receives articles from contributors from all over the world, both political and policy scientists who write in the scope of theoretical, empirical research to methodological debates. It is also open to researchers, public intellectuals, practitioners and graduate students who study and research on political and policy phenomena. The editor will conduct a double blind peer review conducted by scholars who have a reputation and competence in the field of political and policy studies from the national and international epistemic community.
Journal of Politics and Policy (JPpol) is registered as academic journal with Dean of Faculty of Social and Political Science at Universitas Brawijaya SK no. 0005.26557045/JI.3.1/SK.ISSN/2019. 1st edition of JPpol is December 2018 with ISSN 2655-7045
Current Issue
Vol. 5 No. 1 (2023)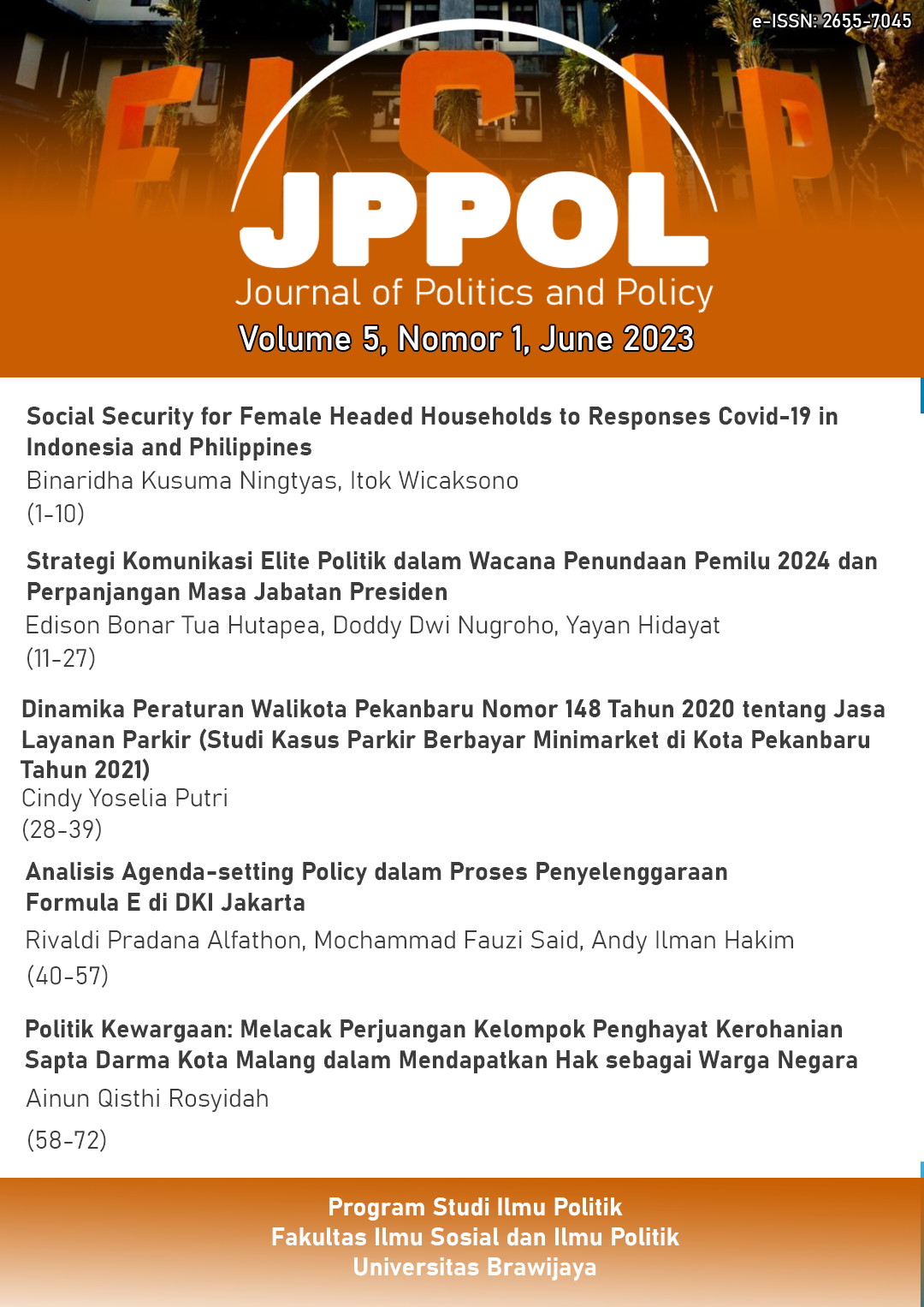 Journal Politics and Policy (JPPOL) Volume 5 Number 1 2023 this time publishes 5 articles with various topics, ranging from social security, extending the presidential term of office, dynamics of mayoral regulations, policies regarding formula E, to the last one about the struggles of community groups in obtaining rights as citizens.
View All Issues